The story of our site logo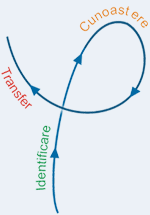 Our logo is the greek letter "φ".

This letter signifies the first step of a long journey, and the road chosen is like a loop in a spiral, toward knowledge and permanent improvement.
Moreover, if we are going to walk together on this road, advancing steadily upwards, we will reach for more information, new skills and more competitive performances.
Nonetheless, entering into a spiral way, it could easily cause vertigo. Therefore, we should stop from time to time, to assess where we are, as to better understand our situation and that of the other passers-by.


- Are we able to compete with them?
- Are we learning as fast as they do?
- Do we act in an effective and efficient manner?
- Do changes create improvement opportunities?

It is up to us to control this process. And, as evolution needs from time to time a revolution, courage to question everything will enable us to make correct decisions.

WHY www.smeprojects.ro ?
The Romanian Small and Middle Sized Enterprises (SMEs) can apply for funding under several financing programmes, which are currently available in Romania. Besides, SMEs can use support services, aiming at increasing funding opportunities or at fostering performance improvement. Sometimes, support services can be freely provided to SMEs (through projects implemented by associations or other NGOs). Furthermore, support services are provided by consulting companies, by request, but it expects an attentive selection process.
However, although public and broadly disseminated via multiple media, information on funding does not reach always all interested parties. And choosing a service provider is often a difficult problem, especially in the case of a micro enterprises or of a small enterprise, due to the lack of an awareness of the "state-of-the-art" in the field of consulting services.
Taking into account these points of view, SMEs are often confronted with complex situations, apparently without a simple and clear solution. Thus:
| | |
| --- | --- |
| | You don't understand why other organizations have got non-reimbursable funding. |
| | You always find out about a potential funding programme only with few days before the deadline for project proposals submission. |
| | Your day-to-day problems are not usually easily recognisible on the priorities of the existing funding programmes. |
| | The offers received from consulting companies do not approach apparently your chronicle problems, nor do they seem relevant for you. |
If you recognize your situation in at least one of the above mentioned assertions, you have to take your time and visit this site! You might find an interesting information, an useful tool, a potential partner, or at least a good idea already validated by somebody else beforehand.
At the end, regardless our good intentions, someone could say that it is nothing workable for own special situation. In this case, for not wasting irrevocably the time invested in browsing our site, please do send us your sincere opinion, even it is merely the expression of your dissatisfaction (at office@smeprojects.ro). Do not hesitate in contacting us – your remark will help us to improve this site and if perhaps you will decide to visit the site again sometimes, you will find the information you may need!

WHO Is In Charge Of This Site?
This site is build by the Projects Dept. of CNIPMMR . Our purpose is to develop a strong dialogue tool with all SMEs members of CNIPMMR, with local branches and other affiliated associations.
Do not hesitate to contact us, if you represent a micro-enterprise, a small or a medium-sized company, an association of SMEs, or a support service center for SMEs. If you are interested in some non-reimbursable funding programmes in particular, missing or too hastily presented on this site, or when you think that important aspects are not properly approached, do contact us and together we will reach a solution.

WHOM TO Is Addressed This Site? WHAT Does This Site Offer?
The idea of this site has started when becoming aware that access to information on available funding opportunities is still limited and partially biased due to communication channels. The news and facts presented by mass-media are thoroughly connected with the level of attention and understanding of those handling the information provided by the authorized sources. Furthermore, the highly specialised language used for describing non-reimbursable funding programmes is not always clear enough for all the interested parties.
Similarly, the selection of a support service provider is made usually on the basis of friends' recommendations or of more or less persistent advertisements, lacking a real market evaluation system of the quality of the services, prior ti signing consulting contacts.
Therefore, we aim at participating to the dissemination of as much information and knowledge as possible, concerning especially those related to non-reimbursable funding opportunities available in Romania for SMEs and for support services centres for SMEs (SMEs associations, NGOs, other companies).
We are not considering ourselves as an authority in project management, when non-reimbursable funding programmes are involved. Nor we aspire at become an assessment body of the skills of the support service centres for SMEs. We intend only to propagate the experience gained in this area and to foster the development of links between stakeholders.
Therefore, without claiming that we own exhaustive information to the SMEs interested in accessing available funding opportunities in Romania, this site will offer you:
| | |
| --- | --- |
| | information on the non-reimbursable funding opportunities available for SMEs or for SMEs associations |
| | information on the succes stories identified in Romania |
| | a meeting and discussion place for potential partners |
| | offers of specialized support services. |

Comments and Suggestions
We are trying to disseminate as much information and knowledge as possible, relying on the experience that we have gained in this interesting, but still less acknowledged and very debatable, field of management of non-reimbursable funded projects. Without any doubts, we are still far from your (and even our) expectations, but, for sure, we would like to improve our services in time, based on your feedback. Do send us your suggestions, disappointments or merely your opinions (at office@smeprojects.ro). We shall carefully analyze them in order to take the needed corrective or preventive actions. We hope that you will see changes and improvements every time when you will visit again this site!

Documents for attestation of the capacity to develop research-development activities


search